Typhoon
Zmag introduces the Typhoon chip melting, alloying and scrap submergence system. Typhoon is the aluminum industry's first chip melter driven by PMC™ (Permanent Magnet Circuit). Typhoon won the 2010 European Aluminium Award for Industrial Design and Engineering. Features and benefits include:
Powerful
Chip processing capability sized to fit most needs
Processes a variety of chips, UBC, alloys and small scrap
Contactless
Virtual Impeller
PMC powers a virtual impeller to generate a vertex
Nothing but the refractoty contacts molten aluminium,dramatically minimizing maintenance and clogging.
Smooth and uninterrupted vortex leads to:

Enhanced metal quality
Higher recovery
Lower melt loss
Configurable
Easy Installation

Installs onto furnace wall via flanges

Suitable for a variety of applications

Diecast shavings(Automative industry and aluminium wheel manufactures)
UBC
Scalper chips,etc.
Energy Efficient
Low energy consumption compared to similiar solutions
As low as 3KW/4HP per hour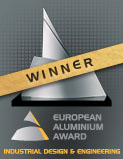 Copyrights Reserved © 2014 Zmag Ltd. Trademarks: MagStir™, PMC™, Typhoon™